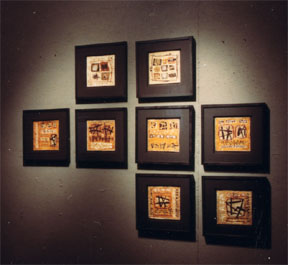 April 12 - June 7, 2002
Michi Susan's exhibit New Works featured pieces from her Poem, Tea Ceremony and Kimono Landscape Series featuring richly textured mixed-media collage. Using a variety of exotic papers and cloth from around the world bound and glued to form her imager, Susan creates positive symbolism celebrating life.
"I have been working on Tea Ceremony, Poem and Kimono Landscape Series for many years, a way of life, universal sensibility carried through all ordinary things. In Japan we have a custom: when your wish won't come through, you write it on a piece of rice paper, then twist it so no one can see what you have written, then tie it to a tree of bamboo in a Shrine or Temple. You can do this throughout the year, especially New Years and Fall Festival or for family health and good weather for farmers. I try to create that feeling of "peace" by using rice paper, hand made paper and hand twisted string. This is a metaphor describing human life as it transmigrates between life and death. What holds its parts together is the mind. The mind must be the strings that hold together all the powers of art."
- Michi K. Susan