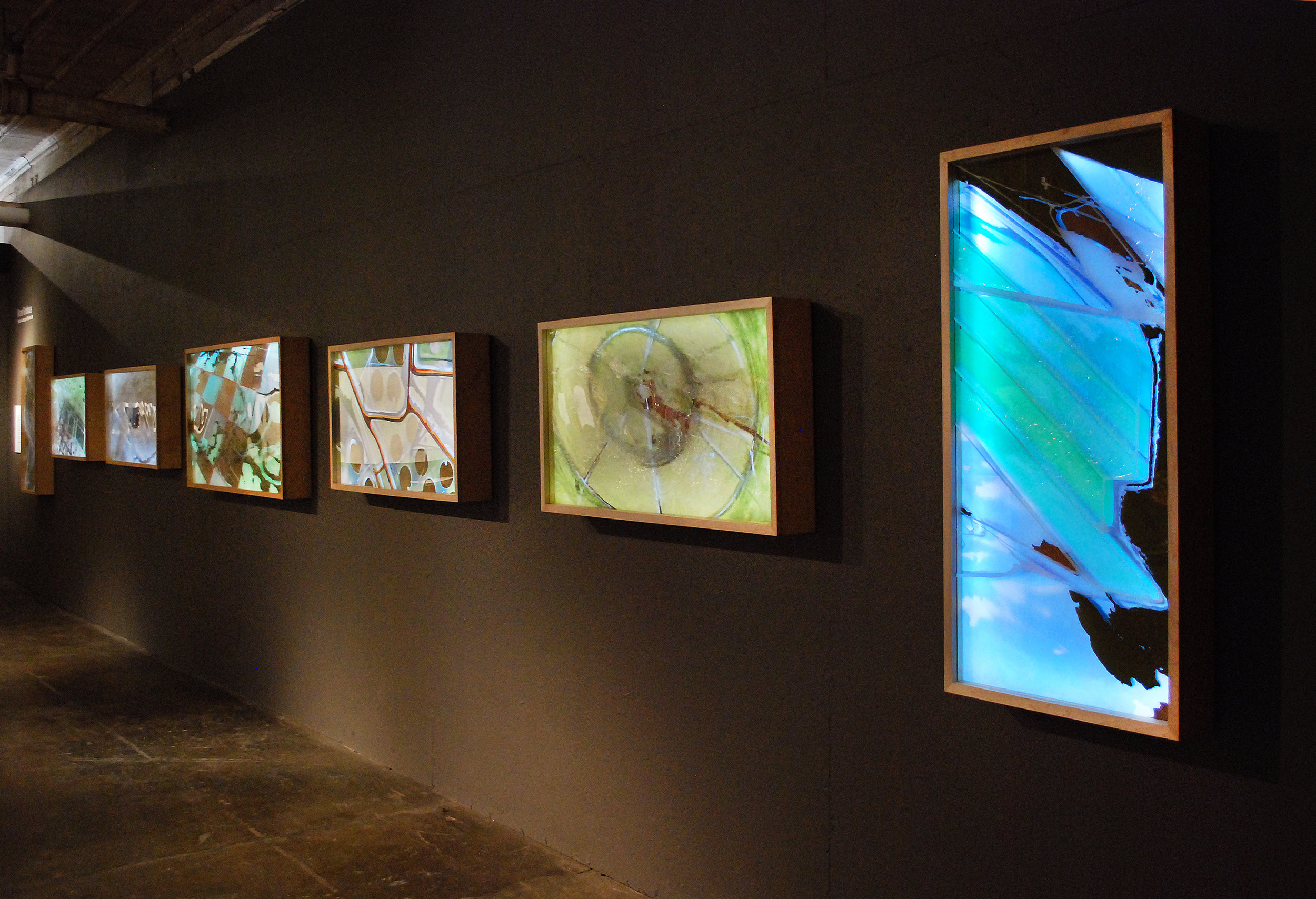 March 25th - May 7th, 2011
The OVAC Art 365 exhibition challenges artists to creat new, innovative artwork. Five artists each receive $12,000 and one year of curatorial guidance in preparation for the exhibition opening at [Artspace] at Untitled. Artists were selected from a statewide call for proposals by guest curator Shannon Fitzgerald, a writer and independent curator and previously Chief Curator at the Contemporary Art Museum in St. Louis.
"Art 365 demonstrates - in the most visibly stimulating way - that deserving artists, when provided tangible creative, intellectual, and financial support, excel," said Fitzgerald. "I think the ambition of the artists will be evident and what each imparts will spark the viewers' imagination and a sense of curiosity."
Grace Grothause (Tulsa) is creating multimedia, backlit landscape paintings which examine the relationship between organic systems and industrial modifications within regional landscapes, from an aerial perspecive. Aaron Hauck (Ada) is exploring the evolution of culture and consumerism and human impact on the environment through a series of sculpural works based on the Clovis Point, an artifact of the earliest human settlement in Oklahoma. Geoffrey Hicks (Tulsa) is developing software that will help re-purpose and 800-pound robotic arm into a producer of art that will interact with the audience and create new works of art which will be on digital display. Liz Rodda (Norman) is using digital video, photography and drawing to create a body of work that when juxtaposed together creates a larger conceptual foray into the internal musings of a specific female identity. Frank Wick (Norman) is experimenting with new materials to create a series of sculptural pieces that collectively address futility through a lens of science fiction and related cultural ephemera.
"We view the exhibition as an investment in research and development for the artists," said Julia Kirt, executive director of OVAC. "Art 365 fulfills specific needs for area artists to receive both funding and feedback, allowing them to explore their vision and improve their work."
Artists:
Grace Grothaus, Aaron Hauck, Geoffrey Hicks, Liz Rodda & Frank Wick