Rauschenberg, Ruscha, Smith, and Winters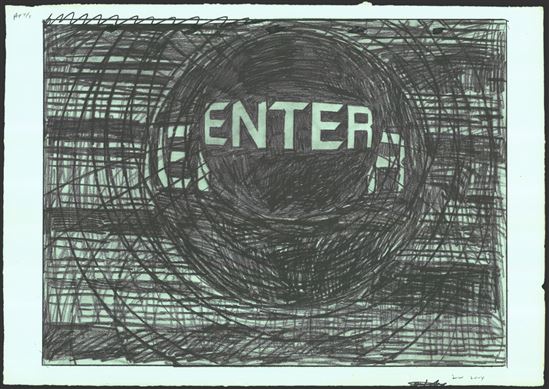 April 24 - June 24, 2015
[Artspace] at Untitled exhibited prints from their own collection created by ULAE artists. This exhibition featured a collection of Terry Winters lithographs, three large works by Robert Rauschenberg, a digital print by Oklahoma's own Ed Ruscha, and included both prints and a stop motion video by Kiki Smith.
Robert Rauschenberg
Robert Rauschenberg (1925-2008) attended the Kansas City Art Institute (1947-1948) and Academie Julien in Paris (1948) before traveling to North Carolina to study at Black Mountain College with Joseph Albers (1948-1949). While at Black Mountain College he met and was strongly influenced by the interdisciplinary approaches of fellow students John Cage, Merce Cunningham, and David Tudor.
Throughout his career Rauschenberg has embraced technological, conceptual, or stylistic innovation. His works in a wide number of static and performance-based media have been widely accepted.
Ed Ruscha
B. 1937 Born in Omaha, Nebraska and raised in Oklahoma City, Ed Ruscha began his art career as a boy, taking painting lessons from a portraitist and drawing comics of everyday life. In 1957, he left Oklahoma to attend Chouinard Art Institute in Los Angeles.
Considered both a pop and conceptual artist, over the years Ruscha has investigated the spaces between highways and maps, images and words, abstraction and representation, public imagery and landscape painting. Both his paintings and photographs ask the viewer to consider the vernacular-built environment as an index of contemporary society.
Kiki Smith
B. 1954 Unlike many artists of her generation, Kiki Smith did not study art in an academic setting. Instead, she learned by participating in Collaborative Projects (Colab), a New York-based cooperative that in the mid-1970s featured an active membership of over forty artists.
More recently, she has diversified her conceptual and technical approach to figuration, creating life-sized figures in a host of traditional and unconventional materials. Bill Goldston invited Smith to print at ULAE in 1989, and she has worked in a variety of media including etching, Xerox transfer, mixed construction, photogravure and lithography.
Terry Winters
B. 1949 Terry Winters attended the High School of Art and Design in New York, and received a BFA from the Pratt Institute (1971). His early paintings were influenced by the monochromatic approaches of minimalism. However, Winters' love of drawing and his growing interest in depiction led him to introduce schematic references to biological, astronomical, or architectural structures as the subject of his paintings. By the early 1980s, these had developed into loose grids of organic shapes against lushly painted fields.
As Winters has continued to work at ULAE, his prints have become increasingly complex, offering a solution between drawing and painting.